Overview
The Health Literacy Specialist Certificate Program consists of a series of 7 individual "Micro-Credentials" within specific health literacy topics:
Communication
Education
Ethics
Organizational Systems and Policies
Public Health
Language, Culture, and Diversity
Community Engagement
Micro-Credentials can be taken individually or "stacked" (mix and match or complete all 7).
Earn a Health Literacy Specialist Certificate upon successfully completing all 7 micro-credentials.

Micro-Credentials - Available Now
Each of the 7 parts of the Health Literacy Specialist Certificate covers a separate set of competencies. These competencies are categorized as either knowledge statements or task statements—what should a Health Literacy Specialist know, and what should they be able to do.
Each micro-credential description below summarizes the kinds of knowledge and tasks associated with it.
Language, Culture, and Diversity. This micro-credential covers integration of health literacy when developing, implementing, and evaluating language access efforts, including translating and interpreting. Includes efforts advocating for awareness, competency, and including a health literacy perspective in understanding different cultures, languages, disabilities/physical limitations/challenges, and populations (urban, rural, different ages, etc.).
Ethics. This micro-credential covers our standards in our dealings with colleagues and clients. It includes the use non-judgmental, non-shaming language and behavior, and inclusivity. Covers the application of health literacy as a vital component in advancing social justice and health equity. Also includes advocacy of including health literacy in research, informed consent, and any patient-centered initiatives. This domain advances the use of trust, communication, and transparency in building relationships.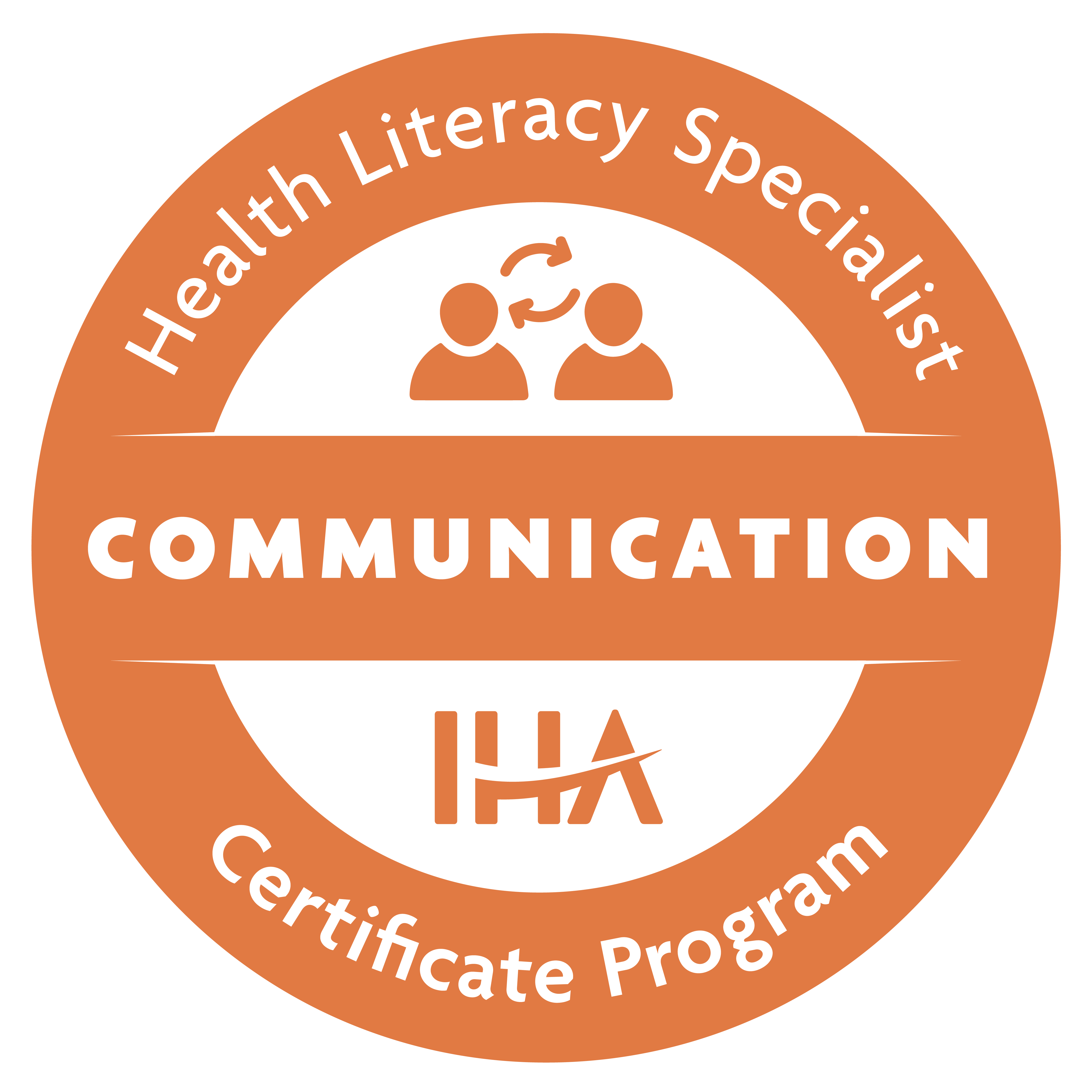 Communication. This micro-credential addresses the use of plain language principles into any form of communication. The Communication domain also includes assessing materials to see if they are understandable, actionable, and usable, and assessing key characteristics of the communication's intended audience. It also covers best practices, such as working with subject matter experts and eliciting end-user feedback in an iterative process to improve communication.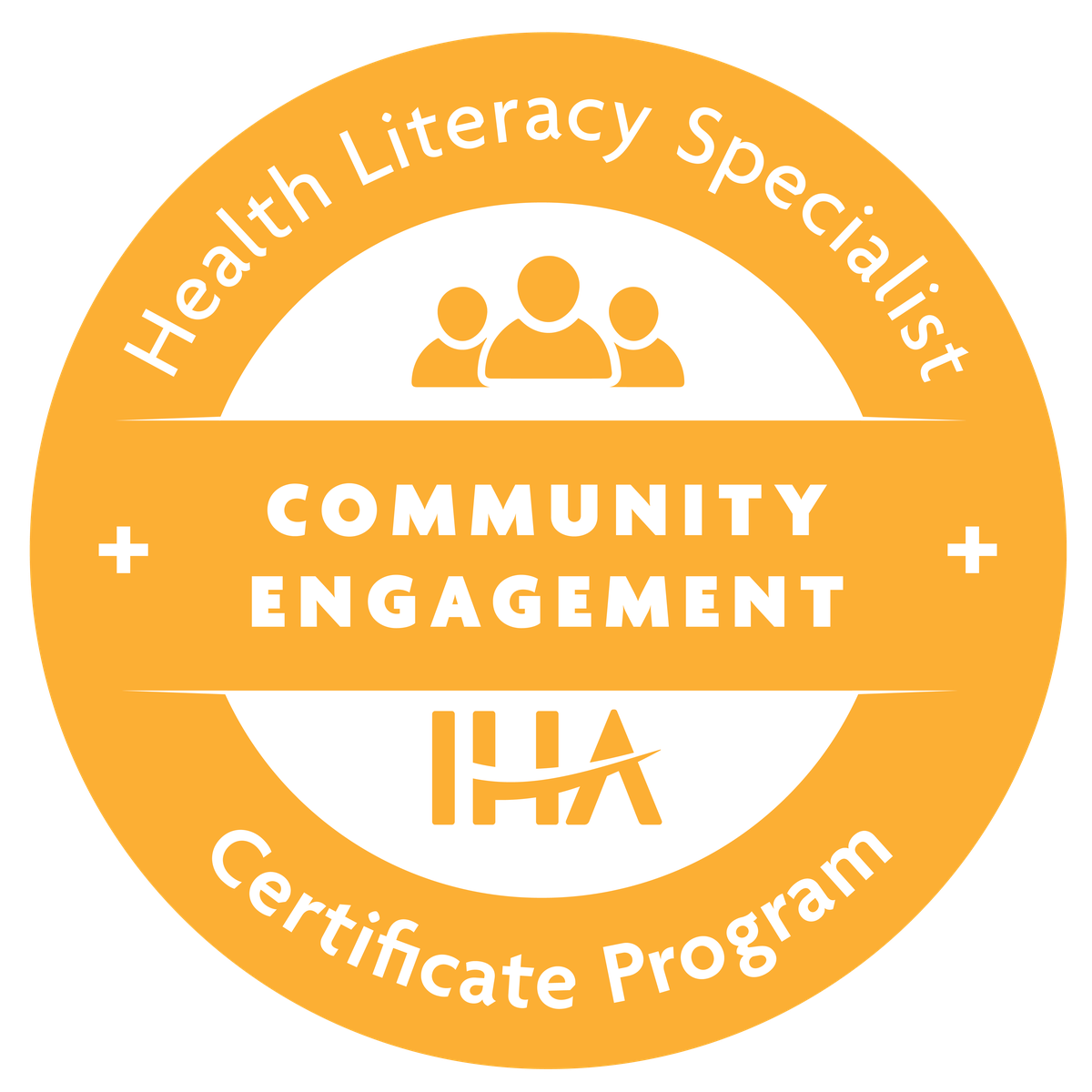 Community Engagement. This micro-credential covers efforts to integrate health literacy into efforts to build bridges between the healthcare system and communities and its members. This includes developing partnerships, including community representation on boards, committees, and planning and policy efforts that directly affect community members ("Nothing about us without us"). Includes promoting health literacy awareness and education into adult education programs, and increasing participation in community-based health initiatives.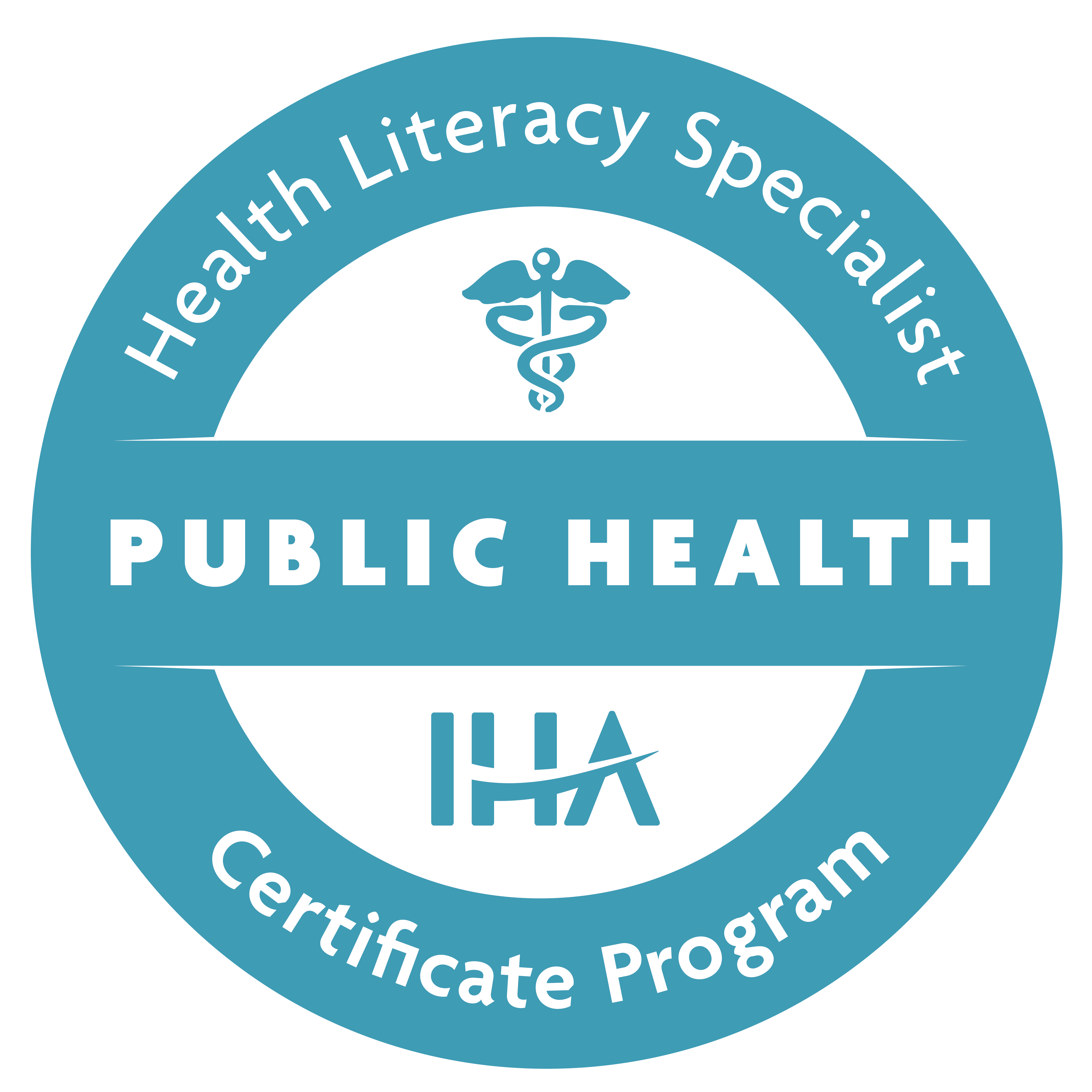 Public Health. This micro-credential covers all aspects of bringing a health literacy perspective in developing strategies for health promotion, disease prevention, risk communication, chronic disease management, and public health campaigns and messaging. Covers these aspects in community-based programs, services and campaigns. Includes use of plain language and prioritizing health literacy in high-risk situations, and using data-informed strategies to address the needs of groups at risk for limited health literacy.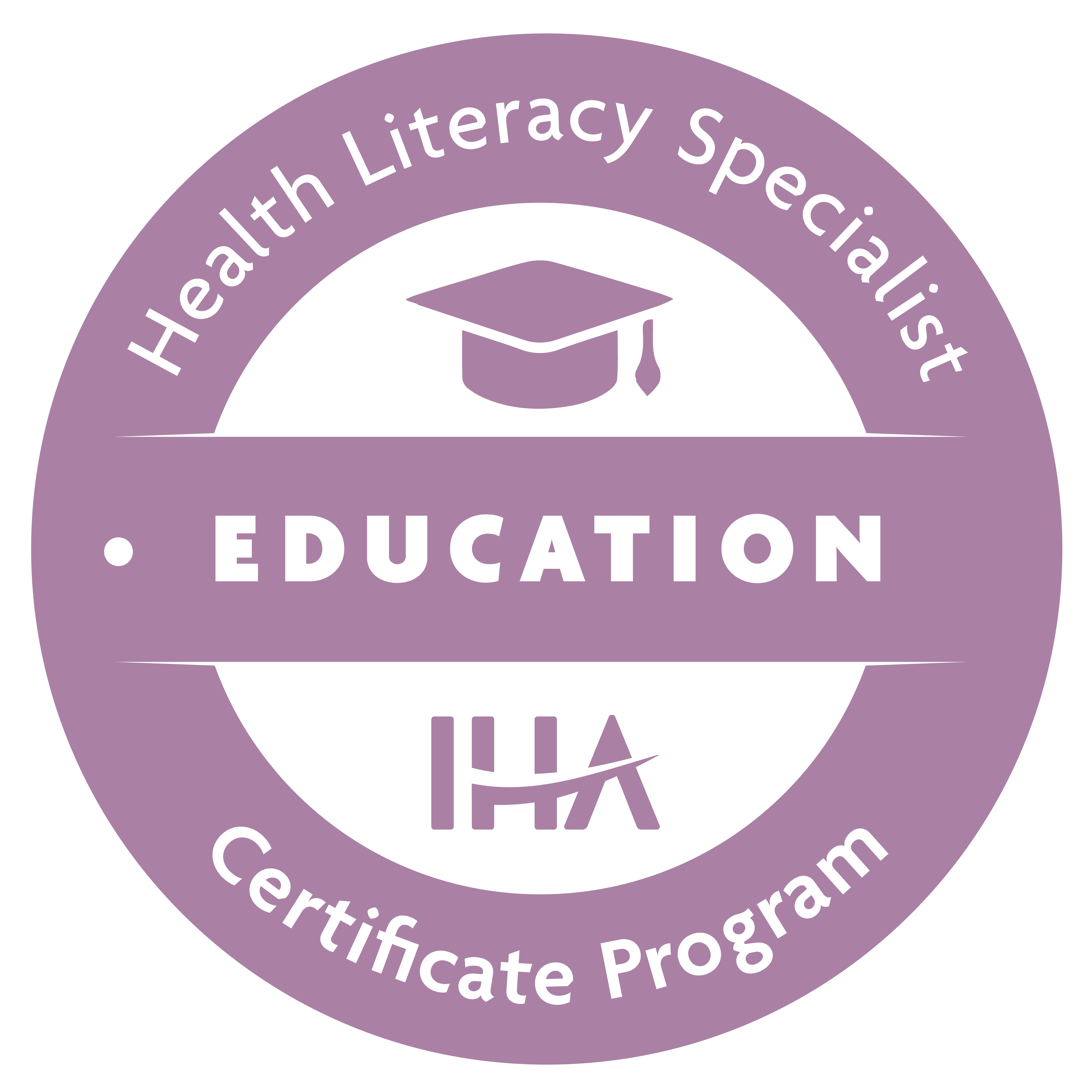 Education. This micro-credential addresses practices related to the educational needs of a particular group or individual, including learning preferences, and developing appropriate plans to meet these needs. These plans include those for individuals, community members, those with limited literacy/health literacy proficiency, as well as learning for a professional audience. It also includes numeracy, or the ability to use, understand, and compute numbers, as well as communicating and understanding/interpreting risk.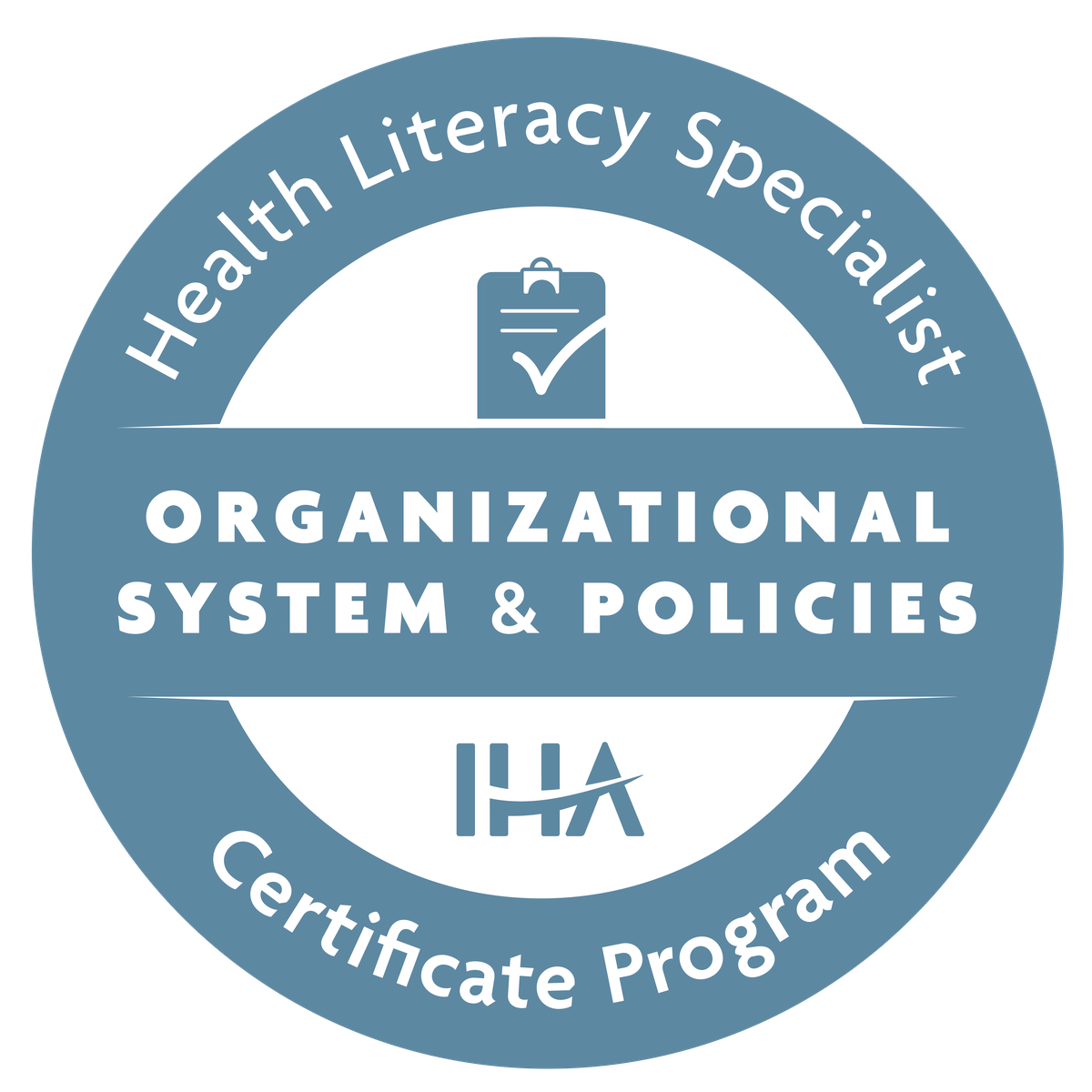 Organizational Systems and Policies. This micro-credential includes all efforts to integrate health literacy policies and practices into organizations. This includes universal precautions, evidence-based practices, and making the connections between social determinants of health and health literacy in any action plan. This domain covers building organizational awareness of limited health literacy, including financial risks, resource utilization, poorer outcomes, quality issues, and performance improvement initiatives. Implements strategies around high-risk situations that impede understanding of health communications.

| Access Date | Quiz Result | Score | Actions |
| --- | --- | --- | --- |
Login Information
Please reset your password if you have trouble logging in.